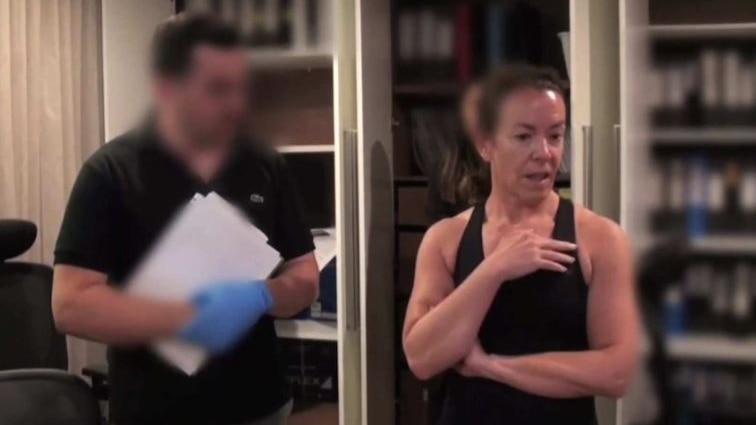 Former client tells inquest she found out Melissa Caddick was 'doing something illegal'
A woman who invested $2.5million with Melissa Caddick has told an inquest that a chance encounter at a Sydney dental clinic led her to discover the alleged fraudster was using someone's financial services license another.
Key points:
Dominique Ogilvie says she met Ms. Caddick in Colarado in early 2020
Ms Caddick claimed she made Ms Ogilvie $300,000 in less than a month
Another financial services adviser revealed Ms Caddick was using her license number
Ms Caddick has not been seen since November 2020, after the Australian Investment and Securities Commission (ASIC) and Australian Federal Police raided her home in Dover Heights, Sydney's east.
ASIC was at the time investigating the 49-year-old for an alleged Ponzi scheme, and an investigation into her alleged death found the alleged fraud involved was between $20 million and $30 million.
Witness Dominique Ogilvie told the court today that she originally transferred $450,000 to Ms Caddick in April 2020, after meeting her in Aspen, Colorado, in January.
He was told Ms Caddick was a financial adviser who "ran a small business" from home, working with around 15 clients.
"It's brilliant, you're brilliant, I love your efficiency," she texted Ms Caddick in July, in response to a portfolio summary sent to her.
The inquest heard that at that time she had invested $2.5 million in Mrs Caddick Maliver's company and later the same month Mrs Caddick told her she had made a profit of $300 $000.
After developing a friendship with Ms Caddick, she had a chance meeting with another financial adviser, Jennifer Porter, in the waiting room of a dental clinic in Sydney, and Ms Porter asked if her adviser was Melissa Caddick.
"She said 'I need to talk to you,'" Ms Ogilvie told the court.
"I kind of felt like she needed to tell me something…she alarmed me (that) something might be wrong."
The court heard the pair later meet at Ms Ogilvie's home, where she showed Ms Porter investment documents which included an Australian financial services license number.
"She said yes, it's my number, and she's using it illegally without my permission," Ms Ogilvie said.
"I kind of gulped and was very anxious… I was confused. I didn't know who to trust."
The court heard Ms Ogilvie immediately call Ms Caddick and use the 'excuse' that she had seen a house she wanted to buy as she asked for all her shares to be sold.
Ms. Caddick eventually returned Ms. Ogilvie's $2.5million, along with a "profit" of around $380,000.
Ms Ogilvie told the court that she was not concerned at this stage about the misuse of client funds but 'didn't want to do business with anyone doing anything illegal'.
She was interviewed by ASIC on September 14, after 'cutting down' her conversation with Ms Caddick because she felt uncomfortable.
The court previously heard around the same time Ms Caddick inquired about and booked services with a document shredding company, but an ASIC investigator testified that she did not believe Ms Caddick had been "warned".
"Have you ever had any discussions or communications with Ms. Caddick regarding the ASIC investigation?" Louise Coleman, associate assistant attorney, asked.
"Never," Ms Ogilvie replied, adding that the only people she had discussed the matter with were her brothers or family.
The court heard Ms Ogilvie ignore several calls from Ms Caddick and did not respond to her voicemails asking for a 'catch up' in October and November 2020.
The inquest, before Deputy State Coroner Elizabeth Ryan, is continuing.